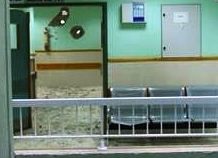 A WHO/OCHA team visited al Aqsa hospital in Deir al Balah after an attack on 21 July 2014 killed one patient and three companions and injured 16. All patients were evacuated and the 100-bed hospital is no longer functioning.24 July 2014 - WHO is greatly concerned about the human suffering and deterioration of living conditions in Gaza as a result of the ongoing conflict. Access to health care is being seriously undermined.
Every day, more hospitals, clinics and ambulances are damaged, destroyed or rendered unable to function, further constraining the ability of the health system to care for the increasing numbers of civilian casualties. As of 22 July, reports indicate that 3993 people have been injured, most of them women and children, and 622 people killed.
Four hospitals, twelve clinics, ten ambulances, a specialized centre for the disabled, and two water desalinization centres have been damaged.