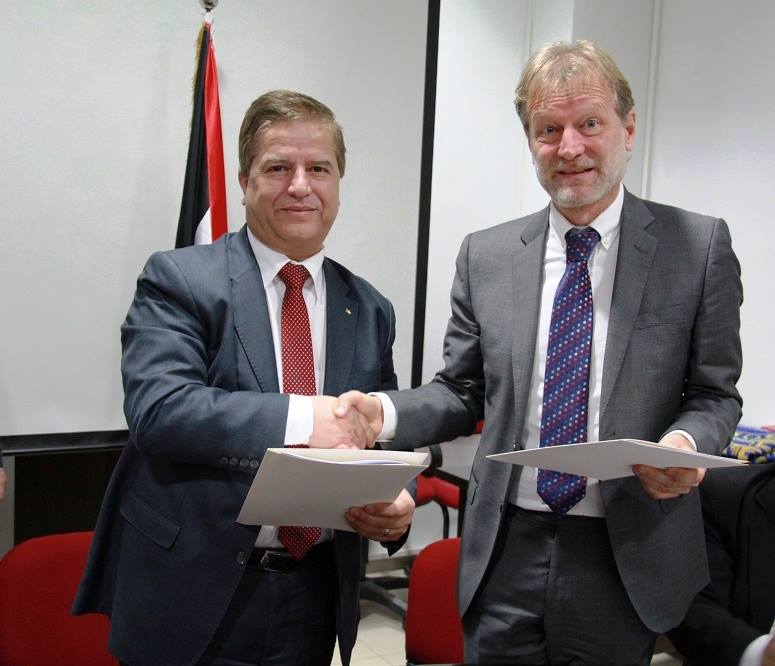 Minister of Health of Palestine H. E. Dr Jawad Awad, and WHO Head of Office in the West Bank and Gaza Dr Gerald RockenschaubRamallah 18 February 2016 − The Minister of Health of Palestine H. E. Dr Jawad Awad, and WHO Head of Office in the West Bank and Gaza, Dr Gerald Rockenschaub, officially signed the joint collaboration programme for 2016–2017 with a budget of US$ 2.5 million in an official ceremony held in Ramallah. Senior Ministry of Health staff and the WHO country team participated in the ceremony.
Minister Awad stressed the "strong and special relationship between the Palestinian Ministry of Health and WHO in providing better health care for the Palestinian people." The joint collaboration programme centres on national priorities identified jointly by WHO and the Ministry of Health and where WHO will provide technical support for programmes, including communicable and noncommunicable diseases, disease prevention, responding to outbreaks, promoting healthy lifestyles, health system strengthening, emergency preparedness, and alert response.
Dr Rockenschaub also commented on the special relationship which he called "unique" among donors. "WHO within the joint programme will support the Ministry of Health to address the jointly identified public health priorities in Palestine and to further develop evidence-based policies and systems. We will coordinate closely with health partners to mobilize resources accordingly." The operational work plans are the outcome of one year of joint planning between the Palestinian Ministry of Health and WHO Regional Office for the Eastern Mediterranean for the biennium 2016–2017.
The process of development of the WHO/Ministry of Health joint programme is in line with WHO's reform agenda and represents a strong commitment for achieving results and contributing to the national health agenda for improving health. The operational planning process guided the selection of the programmatic priorities which are aligned with the national health strategy and harmonized with the United Nations Development Assistance Framework for Palestine, 2014–2016.
The plan features the family practice model which has been adopted by the Palestinian Ministry of Health and, with WHO support, further progress will be made in advancing the strategy. In 2016, training will be focused in 3 district centres for the roll-out and implementation. Other activities in primary health care include standardized assessments and training for quality improvement, as well as integration and improvement of noncommunicable disease and mental health services into the primary health care approach.
In addition, WHO will continue supporting the Ministry of Health to address humanitarian health challenges including mobilizing medications, vaccines, urgent laboratory reagents, assisting in coordinating the delivery of medical supplies from various donors to the Ministry of Health in the West Bank and the Gaza Strip, and the distribution of donated fuel to health facilities according to need to ensure continuity of health service delivery.