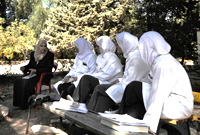 Training session on mental healthRamallah, 10 October 10 – On 10 October, International Mental Health Day, the Palestinian Ministry of Health and the WHO oPt office launched a three-year $1.5 million project, funded by the European Union (EU), to improve community-based mental health services in the West Bank and Gaza Strip. 
WHO will provide technical support for the project which the Ministry of Health will implement in 48 health facilities in the West Bank and Gaza Strip, in line with the National Mental Health Strategy, 2012–2014. The project also aims to increase patient access by strengthening Palestinian civil society involvement in service provision and in fighting stigma and discrimination. 
WHO and the Ministry of Health have worked together over the last decade, most recently in an EU-funded phase 1 project (2008–2011), to reshape mental health and psychosocial support services from a traditional institutional-based approach to a community-based approach.
This EU-funded phase 2 project builds on this work and emphasizes effective prevention, diagnosis, and treatment of common and severe mental health disorders, and will be implemented across a continuum of care levels: primary assessment and ongoing care in primary health care clinics, specialized and community care in community mental health centres, acute care units in general hospitals and promoting rehabilitation services in tertiary care facilities. 
Related links