June 2012, WHO oPt - Out of stock essential medications at the Ministry of Health (MoH) Central Drug Store (CDS), in both the Gaza Strip and the West Bank, are at the highest levels seen since 2007. The MoH in Gaza reported that 58 percent (253 of 480) of essential medications were at zero stock, with an additional 13 percent at levels sufficient for less than three months, while the MoH Central Drug Store in Ramallah reported a shortage of 28 percent (149 of 523).
The most recent increase is a direct result of the financial crisis affecting the Palestinian Authority (PA), which deteriorated sharply in 2011 and 2012.[1] The PA is responsible for the purchase and funding of drugs for government hospitals and clinics, both in the West Bank and the Gaza Strip, and in April, its outstanding debt to suppliers was estimated at over $100 million. The financial crisis has deepened the already chronic shortages in essential medications at MoH hospitals in the Gaza Strip during the past five years due to the disputes and poor of coordination between the MoH in Ramallah and the MoH in the Gaza Strip.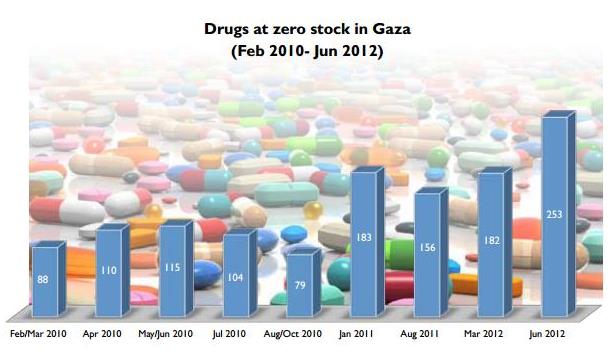 Drug Shortages in Gaza, 2010-12 (Source: OCHA)
The shortages have created a greater need for referrals, as some patients who normally would be treated in MoH hospitals must be now be referred to private health facilities at higher cost. In addition, the health system has coped with shortages by, for example, using alternative drugs, accepting items donated from the community businesses, or using petty cash reserves to purchase critical items on the private market. Patients may purchase their medication from private pharmacies or seek donations from charities. However, the shortages experienced this year have surpassed the coping abilities; in May some patient care procedures (e.g., elective surgeries) were postponed or suspended. Patients with life-threatening diseases or chronic illnesses who need maintenance medications, and poor and elderly patients, are especially affected by the shortages. Importantly, these patients face a high risk of complications from medical conditions that may deteriorate while they wait for drugs to be supplied, or for referrals and access permits to be approved. Patients who cannot afford private healthcare, within Gaza or the West Bank, and who are denied Israeli-issued access permits to East Jerusalem hospitals, have no other health care options. [As published in OCHA Monthly Humanitarian Monitor, May 2012, Page 9-10]
[1] UN report to the Ad Hoc Liaison Committee, UNSCO, April 2012. In 2011, largely due to lower-than-expected external budget support, the PA accumulated approximately US $540 million in arrears, including to the pension fund, private sector suppliers and development projects, and close to US$140 million in net financing from domestic banks.