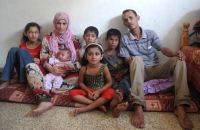 Mervat and her family in Gaza have suffered psychological scars from the recent conflict.September 2014 - Psychologist Hasan Zeyada lost his mother, three brothers, a sister-in-law, and a nephew when their home was destroyed on 20 July during the recent hostilities in Gaza.
The 50-day conflict kept the Gaza Community Mental Health Centre, where Zeyada is director, from operating, and he had to wait more than a month before the 26 August ceasefire allowed him to return to work . All that time he knew what was awaiting him: a vastly increased number of people needing help, with many feeling as he was feeling. Or worse.
"I'm a human being," he says. "I know more than ever what they feel. They are overwhelmed. A lot of people need help. Among children alone, we are talking about insomnia, nightmares, hyperactivity, fatigue, headaches, attention problems, stuttering, and bedwetting."