Stocks of over one quarter of essential medicines at zero in the oPt
The main drug stores of the Ministry of Health (MoH) in the West Bank reported that stocks of 150 (of 525) essential medicines were at zero in May 2014; in the Gaza Strip the main MoH drugstore reported stocks of 118 (of 481) essential medicines were at zero.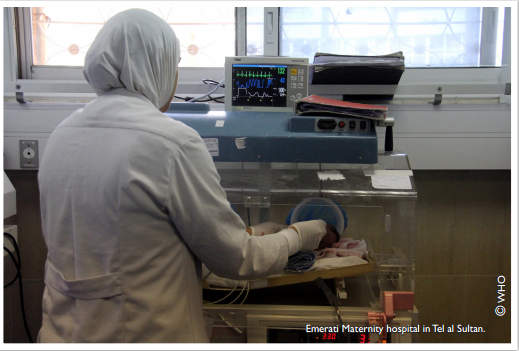 Emerati Maternity hospital in Tel al Sultan © WHO
The World Health Organization (WHO) launched a short video in April to highlight how drug shortages cause unnecessary suffering and morbidity and can shorten the lives of patients. The video documents young boys suffering from hemophilia in Gaza who require vital replacement blood clotting factors that are among the drugs that are unavailable.18 The fact that the West Bank has a higher number of drugs with zero stock than in Gaza, where shortages have been a chronic problem since 2006, is a cause for concern. The resupply of medicines and disposables has been sporadic due, in part, to the State of Palestine budget deficit, also a contributing factor for Gaza's shortages. Drugs are procured and disbursed by the MoH for hospital and clinic use on a 60/40 per cent basis to ministry drugstores in the West Bank and Gaza. However, only two-thirds of the MoH's US$120 million annual budget for drugs was tendered in 2014 because the PA is in debt (approximately US$116 million) to pharmaceutical companies in Palestine and abroad. A list of 40 high cost life-saving drugs for patients with organ transplants, cancer, kidney or liver disease, as well as special infant formulas, was recently approved by the Ministry of Finance but is unlikely to be procured soon.
Since July 2013, severe restrictions imposed by the Egyptian authorities on the Rafah crossing in Gaza, combined with insecurity in the Sinai, have led to a significant decline in the entry of drug donations via Egypt. Patients have also lost access to hospitals in Egypt through Rafah; only seven patients crossed into Egypt in April 2014 compared with over 4,400 in April 2013. The strict coordination and inspection procedures at the crossing with Israel have also delayed shipments of drugs from the West Bank and added to transportation costs.
The chronic shortage of electricity in Gaza, compounded by the partial operation of the Gaza Power Plant, impairs the continuity of patient care in hospitals. Across Gaza, electricity is supplied for only 12 hours a day. Supply difficulties are exacerbated by a more recent shortage of fuel for the operation of back-up generators, stemming from the Egyptian authorities' crackdown on illegal tunnels used for the smuggling of cheap fuel. Back-up generators have become ubiquitous accessories for Gazan businesses and households for those who can afford and obtain fuel.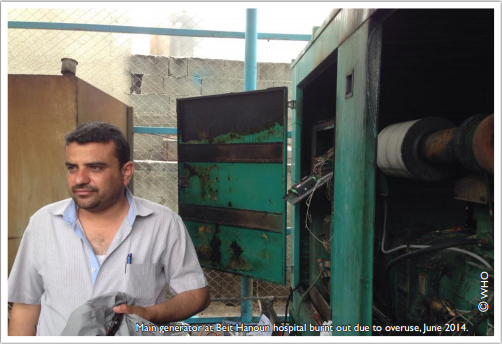 Main generator at Beit Hanoun hospital burnt out due to overuse, June 2014 © WHO
Gaza's hospitals reserve independent, medium capacity diesel-powered generators for operating rooms (OR) to avoid power interruptions during the daily shifts from the main electricity lines to backup generators.
Gaza's main Shifa hospital has connected all six of its ORs to a UPS (Uninterrupted Power System) that can guarantee power to advanced life-support machines during operations. The special open heart surgery OR and the post-heart surgery Intensive Care Unit (ICU) are connected 24 hours to a UPS, including a ventilator and monitoring equipment. As a rule, only ICUs with advanced life support have UPS connections: light, suction machines, air-conditioning, and other equipment are not connected. Other standard OR equipment, including ventilation and cooling, vacuum-air filtration, and suction machines, remain shut down during electricity breaks. The recovery rooms are also subject to short black-outs during power switches. The frequent cut-offs affect some machines that require calibration and rebooting each time the power fails, increasing the expense of spare parts and maintenance as well as fuel costs.
THREE PATIENTS DIED BEFORE ACCESSING CARE IN ISRAEL AND EGYPT
In March 2014, three Gaza patients died while waiting to access health care destinations in Israel via Erez and in Egypt via Rafah crossing. Asia, a 28-year-old heart patient, died hours after attending a security interview with the Israel Security Agency as a condition to process her permit application to travel through Erez crossing. She had been denied a permit in
September 2013. Naifa, a 64-year-old breast cancer patient, died after waiting for six weeks to travel through Rafah crossing to continue her treatment in Egypt. A three-month-old infant with a congenital heart condition was sponsored for surgery in Istanbul, but died after waiting six weeks for access via Egypt to Turkey.
You can access this text in OCHA Humanitarian Bulletin, May 2014