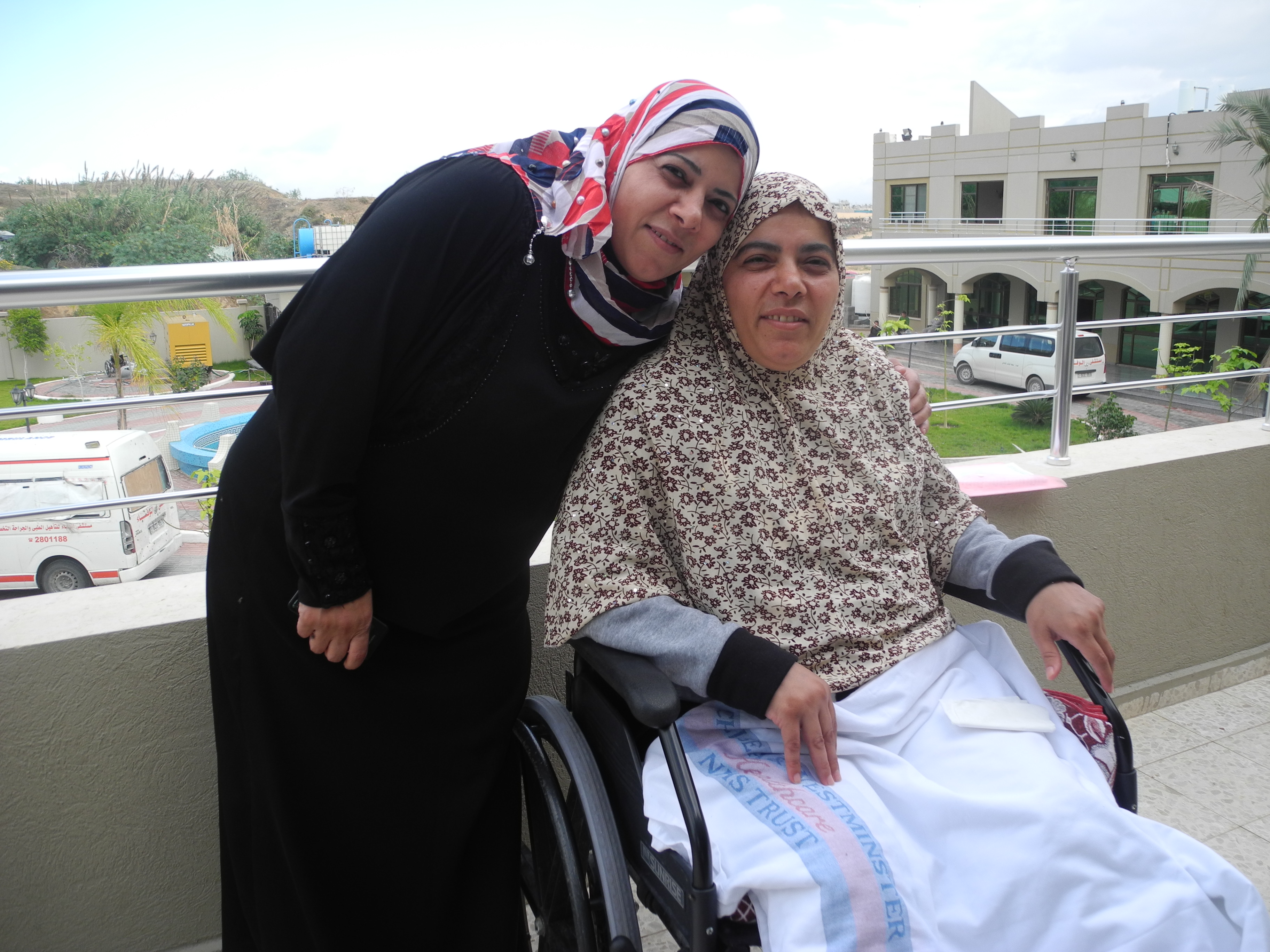 Nahla and her sister Huda. 26 November 2014, Gaza –"According to our culture, I should take care of my elderly mother, but now I am disabled and my husband has died, so my mother will have to take care of me," said Nahla, a 44-year-old woman who sustained grave injuries in the recent conflict.
A wall in her home collapsed on her and her husband when a warning rocket struck the building. Nahla's husband was killed instantly, and Nahla suffered spinal injuries. They had been married only four months.
"In one instant my husband died and I lost all feeling in the lower half of my body," said Nahla. 
It took more than half an hour for the ambulance to access the area. The first hospital she was taken to was unable to provide the treatment she needed, so she was brought to a second hospital. Later she was referred to a hospital in Egypt for urgent spinal surgery, but the conflict meant travel to the Egyptian border was dangerous. Over the next five days, the ambulance tried three times to take her to the border, but each time they were forced back by military activities in the area. On the sixth day she was able to cross the border and reached Nasser Hospital in Cairo, where the next day doctors performed the surgery.
She stayed in the hospital in Egypt for 20 days. "[This was when] I realized I would be permanently disabled." Nahla said.   
Ali Abu Riala, the head of nursing department at Al-Wafa Hospital where Nahla is currently undergoing rehabilitation, said that in cases like this early intervention is crucial. "If she had received the treatment she needed in the first four hours, she might have walked again," he said.
During the conflict in Gaza patients could not always access the treatment they needed due to the overwhelming demand on the already fragile health system. Following the conflict, the health system is slowly being rehabilitated. But with an estimated 1000 newly disabled patients like Nahla, services are often still inadequate despite huge efforts from medical staff.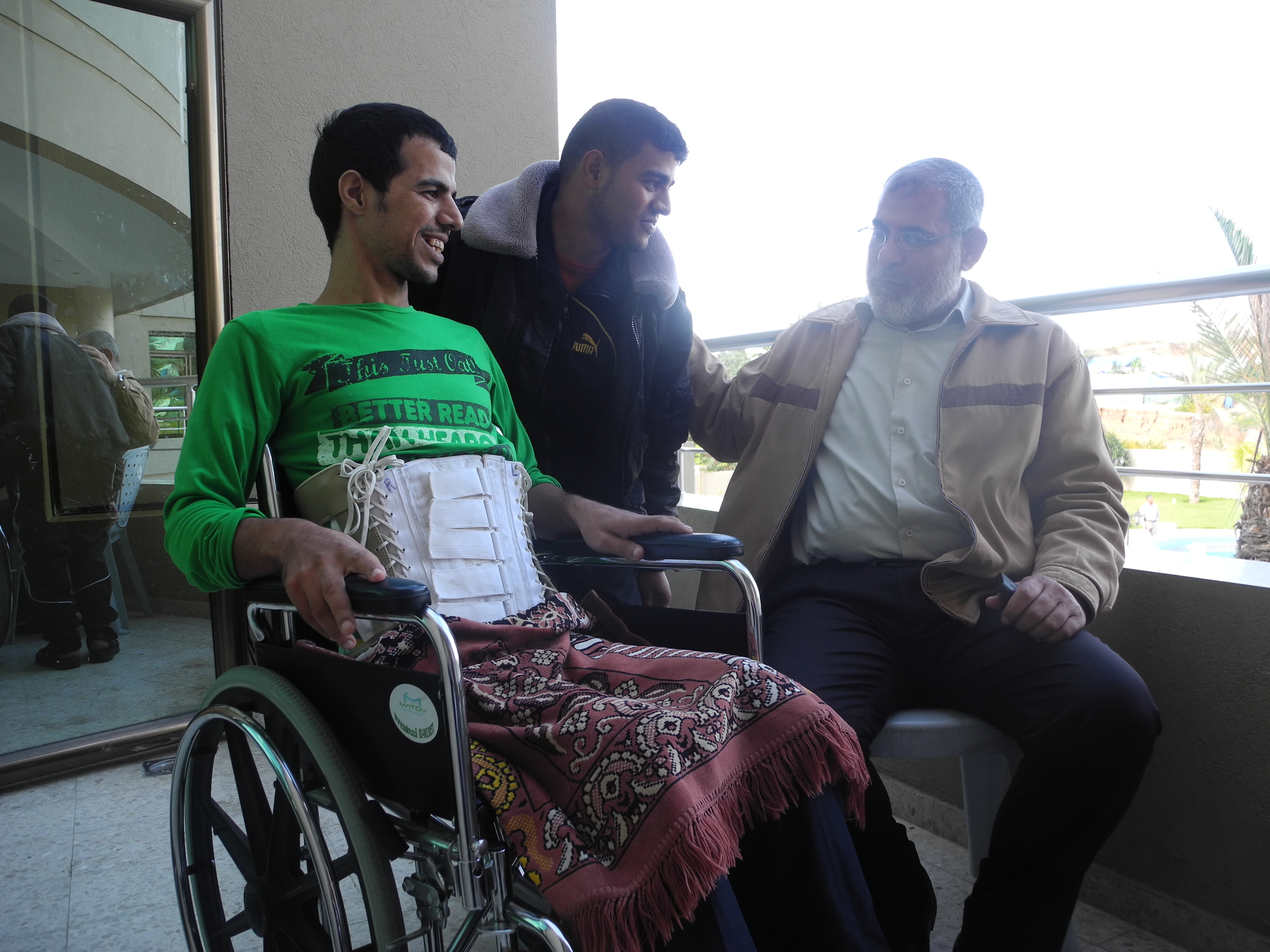 Abdelaziz, his brother (left), and Ali Abu Riala, the head of nursing department at Al-Wafa hospital (right). Another al Wafa patient is Abdel Aziz, 30, a farmer from al Maghazi camp who was shot while he was tending his crops and is now a paraplegic. Abdel Aziz is married and has two young children to support. Like Nahla, he will require between three and six months of rehabilitation to adapt to his disability, including how to cope with incontinence.
But while Nahla was a schoolteacher and hopes to return to the classroom, it is harder for Abdel Aziz to plan his future since he will not be able to return to physical labour.  At the moment he insists he will continue farming, and says he will seek treatment in Jordan. "I want to plant my land again," he said.
Al Wafa Hospital was the only hospital providing comprehensive rehabilitation in the Gaza Strip and could accommodate 170 patients.  During the conflict, the three-building complex was totally destroyed. Now the hospital has relocated to a facility for elderly people where it shares services and can only accommodate 40 patients.
Basman Alashi, the executive director of El-Wafa hospital, said that the new building was not designed for this purpose, and is lacking equipment. Even the nurses' stations are in unfurnished rooms, and the pharmacy is located in a kitchen.
In mid-September, a WHO-led joint assessment of health needs and services in Gazaan highlighted the increased demands on services and the need to rebuild and strengthen the health system to be able to cope with future emergencies. The assessment pointed to the importance of responding adequately to the needs of persons with injuries and disabilities to prevent complications and permanent impairments, as well as of incorporating disability issues in the overall humanitarian response.