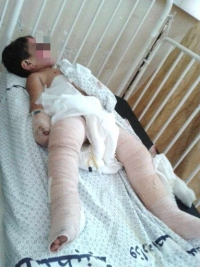 Yamen is a 4-year-old boy from Bureij camp. He was referred from al-Aqsa to Shifa hospital after being badly injured from the bombing of his home in central Gaza on 19 July 2014. Yamen's parents, grandfather and 5-year-old sister died in the attack which took place very early in the morning. His home was destroyed.
Yamen suffers from head trauma and multiple skull fractures, burns over his body, a lung condition, haematoma of his liver and spleen and fractures in both arms and both legs. The child lay unidentified in hospital for days until a cousin of his father recognized him in the pediatrics surgery department. The Ministry of Health had announced a description of Yamen over national radio, calling for family to come forward and identify him.
Yamen has been referred out of Gaza to Makassed Hospital in East Jerusalem.