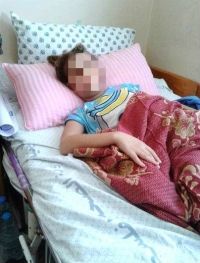 Name: Shahid
Age: 10
From: Shejaiiya
Date of injury: 20 July
Shahid's family house was hit by an explosion at dawn when the family of eight was gathered together in one room. Much debris entered the room and Shahid was found semi-conscious on the floor, bleeding from her ear. The family fled the house and called for emergency assistance but found that ambulances could not access to the area due to the insecurity. Shahid's father carried his daughter, running and walking for three kilometres until he found an ambulance which transported Shahid to hospital. Shahid waited two hours in the ER for treatment because it was filled with trauma patients. She was frightened and vomited blood. A CT was taken and she was sent to pediatrics for observation. A physician advised specialized neurologist care and referral outside of Gaza. 
Sharid's father, Anwar: "I called 102 for the ambulance and they answered that there is no access to Shejaiiya. It is very dangerous and everyone is a target." 
Sharid's mother, Amani: "I told my children, 'Don't look down at the street or the people - just run!'"