14 March 2014, Jerusalem - More than 12 000 schoolchildren in the West Bank and Gaza Strip participated in an art contest and online quiz competition to raise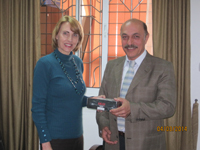 Dr Wendy Venter of WHO hands a prize to Dr Mohamed Rimawi, Head of School Health at the Ministry of Education awareness about the harm caused by tobacco. WHO collaborated with UNICEF, UNRWA and UNFPA to support the Ministry of Education and the Ministry of Health in organizing the competition, which was part of a 'No Tobacco' awareness‐raising campaign that includes the right of individuals to be protected from second-hand smoke.
The 40 winners, 2 schoolchildren from government, UNRWA and private schools from each of the 20 districts in Palestine, received a prize of an electronic tablet, provided by WHO to the Ministry of Education. 
In Palestine, 9.8% of girls and 32.9% of boys aged 13 to 15 years use tobacco. Globally, tobacco causes 6 million deaths every year, of which 600 000 are the result of non-smokers being exposed to second-hand smoke. Only 16% of the world's population is protected by comprehensive national smoke-free laws.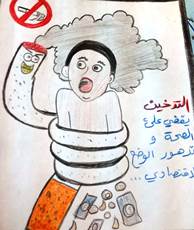 One of the winning drawings in the art contest
Mr Zakareia Zoorob, General Director at Ministry of Environmental Affairs in Gaza, Dr Anwar El Barawi; Deputy Minister of Education for Administrative and Financial, Walaa Ammar; Advocacy Officer - WHO and Dr Tayseer El shurafa General; Director of School Health