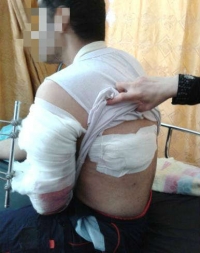 Name: Raed
Age: 37
From: Deir al-Balah (displaced from Bureij)
Date of injury: 23 July

Raed's family left their home in Bureij camp on 21 July for his sister's house in Deir al-Balah because of heavy shelling. Living conditions were very crowded with four families, 30 persons, staying in the same small house and the area was not safe so Raed's family decided to return to Bureij after two days. Eighteen people were in the street when they were hit. A 10-year-old girl was killed. More explosions immediately followed injuring Raed and two of his nephews. One of Raed's nephews, Mohamed, 12, suffered cut arteries in both his legs. Ahmad, 11, sustained a fractured tibia and multiple shrapnel wounds. Raed sustained comminuted fractures in his left arm with radial nerve damage and an open wound in his back.
Mohamed, Ahmed and Raed were all taken to hospital for treatment. One child from the family was killed and 15 people were injured.
Raed: "We were in Deir al-Balah and going to move to Al Bureij. We stopped a car to take us, the wife of my brother and my female cousins with their daughters. They stopped the car in front of the house. We were standing by our house …. I was just saying to them how lucky we were to find a car.
Suddenly the first rocket was fired on us. The child Rawan was injured, her head went off her body.... A second rocket injured me, my sister, the son of my brother, two sons of my sister and my brother's wife. I tried to walk with difficulty along the wall to go into the house. I went to check on my wife and children. I was afraid that the whole house would be demolished.
Then many people came and I was taken with my injured sister and her boy to Al Aqsa Hospital in a car.
On our way to the hospital I saw an ambulance coming to take the others. At Al Aqsa hospital I received first aid and then I was transferred with my nephew Mohamed to Al Shifa Hospital."