Three Palestinian students who won top awards in a WHO regional art competition for World Health Day 2012 were presented with their awards in ceremonies in the West Bank. Student Sondos Raed Helmi, 15 years old, from Banat al-Aroub al-Ula School, from Aroub refugee camp in Hebron, who won first prize in her age group, received her award on 13 June in an United Nations Relief and Works Agency for Palestine Refugees in the Near East (UNRWA)-organized ceremony in Aida Refuge Camp. Ramallah resident Fuad Al Yamani, 16 years old, from Ramallah Secondary School, won first prize, and Ghaidaa Amin, 14 years old, from Idna Girls School, won fifth prize, in their age groups, and received their awards during school ceremonies on 29 and 30 May.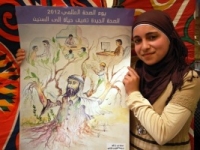 Sondos Raed Helmi's picture was awarded first prize All three awards were presented by Dr Tasneem Atatrah, the Health Promotion and Human Rights Officer for the WHO oPt office in Jerusalem. The art competition was organized by the WHO Regional Office for the Eastern Mediterranean in April to celebrate this year's theme of, Ageing and Health: Good Health Adds Life to Years" and implemented in schools locally by the Ministry of Education and by UNRWA.
Ghaidaa won fifth prize for her painting of a woman being assisted by a health worker and her granddaughter. Fuad won frst prize for his painting of an elderly woman dancing to celebrate this year's World Health Day, "Ageing and Health – Good Health Adds Life to Years." Sondos's drawing was of an elderly man, in the form of a rooted olive tree, representing a source of life for the community.
School children between the ages of 8 and 18 in the Eastern Mediterranean Region were encouraged to submit drawings or paintings around the theme of ageing and health for the 2012 World Health Day art competition. More than 1000 children from 14 countries of the Region entered and prizes were awarded to winners in five age groups. In addition to the art competition winners from occupied Palestinian territory, other winners came from Islamic Republic of Iran, Lebanon, Morocco, Oman, Saudi Arabia, United Arab Emirates and Yemen.
| | |
| --- | --- |
| | |
| From left: Dr Tasneem Atatrah, award winner Ghaidaa Amin and school principal Ghoson Najar | From left: Mohammad Mttor, Principal, Ramallah Secondary School, award winner Fuad AlYamani and Dr Tasneem Atatrah |
| | |
| --- | --- |
| | |
| Ghaidaa Amin's picture | |