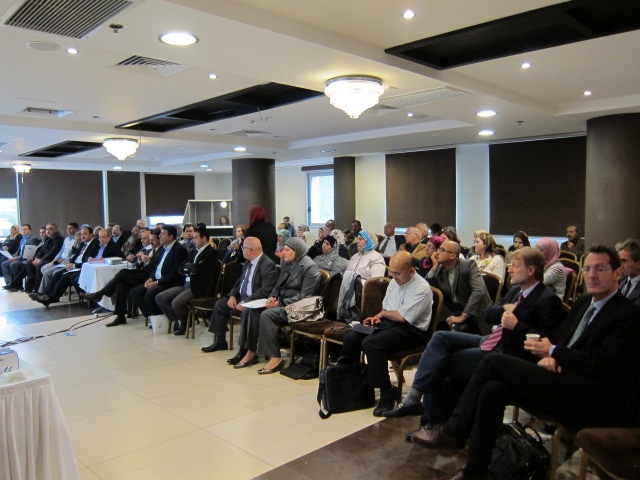 4 November 2014 - A changing world requires a new approach to patient care, said presenters at a joint Ministry of Health and WHO workshop on the family practice model of health care on Saturday.
This model – standard practice in many developing countries – means health professionals are responsible for a specific group of patients, so patients see the same doctor each visit, thus strengthening the relationship between patient and doctor. It has been shown to greatly improve both health outcomes and satisfaction for patients.
The workshop, held in Ramallah, introduced the family practice model to over 100 health professionals. "This approach represents a shift in thinking," said Dr Gerald Rockenschaub, head of WHO's office for the occupied Palestinian territories. "Today, as compared to 50 years ago, people are living longer with more complex health issues – we must care for the whole person, not just each isolated illness."
Dr Asad Ramlawi, Director General of Primary Care and Public Health in the Palestinian Ministry of Health, emphasized that family practice was about health promotion, prevention of illness and encouraging patients to take responsibility for their health.
This model will also help address issues caused by frequent rotation of health staff and short consultation times.
Tony Laurance, Chief Executive Officer of Medical Aid for Palestinians, a UK-based charity, who spoke at the workshop, said: "This will be better for patients as it will improve primary health care; it will be better for health staff as it will improve job satisfaction and enable them to treat the whole person in a holistic way; and it will make Palestine a regional leader in family practice."
Other presenters at the workshop included Professor Paul Wallace from London's University College who gave an international perspective on the effectiveness of this model, Professor Salman Rawaf from London's Imperial College who gave local and regional perspectives, and Dr Akihiro Seita, Director of Health for the United Nations Relief and Works Agency for Palestine Refugees in the Near East
WHO will support the Ministry of Health to pilot the family practice model in three districts of the West Bank, with a view to expanding it across the oPt.
The initiative will also be supported by the Italian Development Cooperation, MAP-UK and the International Development of Family Medicine in Palestine (IDFMP) programme, a collaboration between academic general practitioners in England and Italy with the first family medicine postgraduate training programme in Palestine.