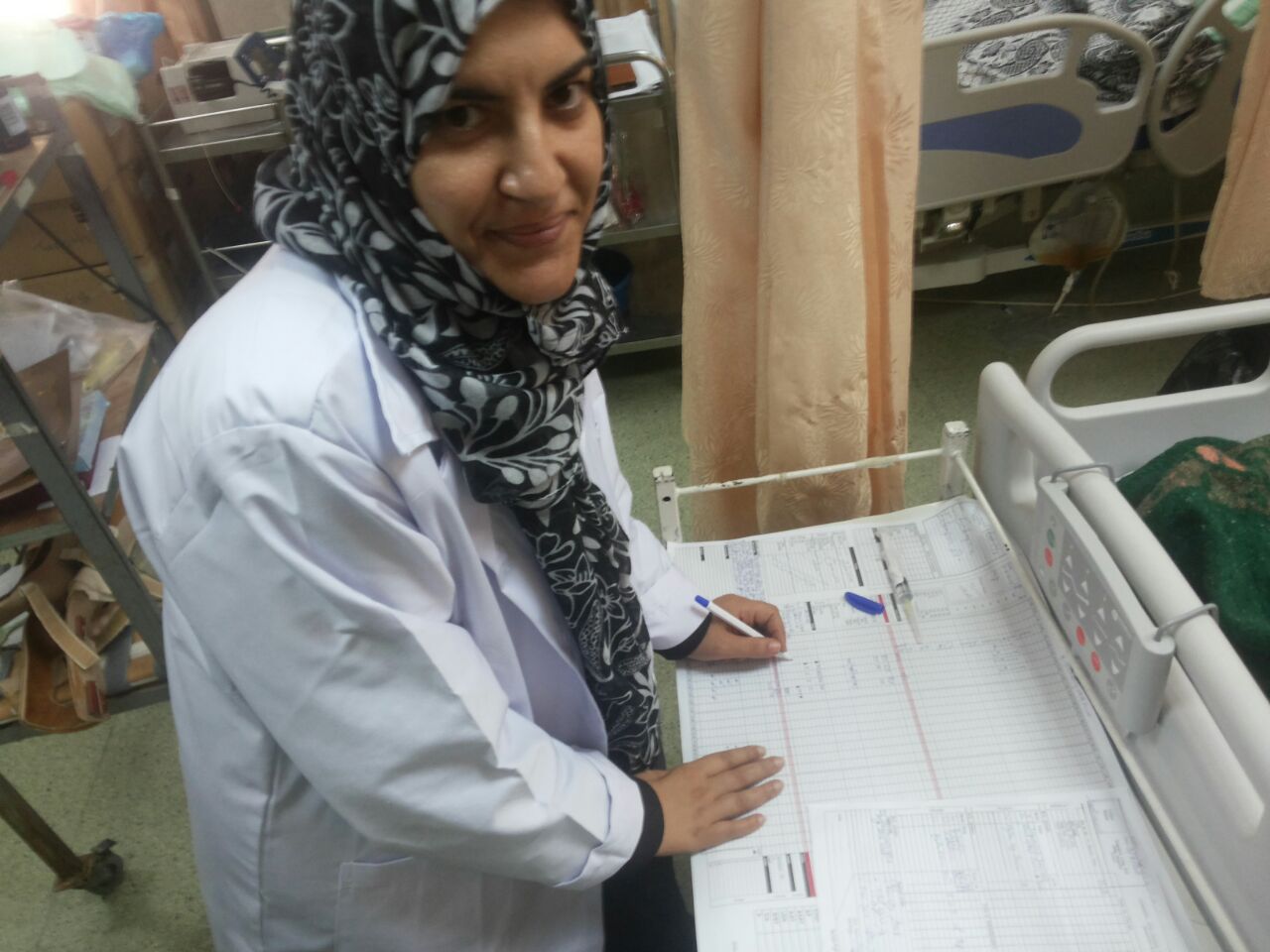 19 August 2015, Jerusalem – "On July 21, I felt lucky," recalled Iman Abu Jaiab, a 33-year-old nurse from Nusseirat refugee camp in Gaza. It was 2 weeks into the summer 2014 war in Gaza. "I had found transportation easily from my home to my job in al Aqsa Hospital," she said, "and I had only one patient in the intensive care unit that morning." 
There were many health workers in Gaza like Iman, who left the comfort of their families to travel on unsafe roads to help others in hospitals and clinics during the crisis. "Many times my children were in danger and I had to help them but I had to help others as well. I never thought about the hospital being hit," Iman remembered.
That day intensive bombardment began in the residential neighborhood around al Aqsa Hospital and the hospital director ordered staff to evacuate patients from the upper floors to the ground floor.  During the move, the hospital itself was hit by a missile and Iman fell seriously wounded in the arm. A physician and cleaner helped to bring her to the emergency department where staff tried to stop the bleeding. At the time the hospital administration decided to evacuate the entire hospital and all patients were piled into ambulances for transfer to 2 hospitals in the south.
Iman remembers that she was semi-conscious during the short transfer, waking from time to time to the sound of large explosions. She remained in Nasser Hospital for 18 days, for treatment of a broken humerus and ribs and a severed nerve and artery. She underwent 11 surgical procedures to clean her infected wound and was then referred to Jordan for 6 months in hospital for muscle and skins grafts and internal fixation of her broken bone.
The long separation from her 3 young children was difficult for both Iman and her children, who had lost their father in the 2008 war in Gaza. Iman's family took care of the children but they were also in danger: "My family's house was hit but fortunately there were no casualties and damage was limited." 
Iman, who has only slight mobility in her hand due to the nerve damage, has not been able to return to caring for patients. Her doctors have given her sick leave but she is determined to get back to work. Iman has painstakingly taught herself how to write using her left hand. "It was difficult at first, by now I am quite good at it," she said proudly. She hopes to be allowed to work as a nurse supervisor or in administration. Putting into words the spirit of humanitarian work, Iman says: "I have an obligation to help people. It is my duty as a nurse, despite my physical disability."
Related links 
WHO HQ Press Release: World Humanitarian Day: WHO honours health workers, calls for their protection
Media contact
Walaa Ammar
WHO Gaza office
08-282-2033