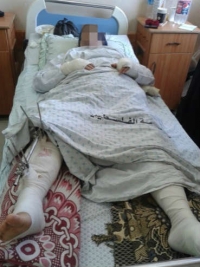 Name: Fawzyia
Age: 50
From: Jabalia camp
Date of injury: 3 August
The three-storey building housing Fawzyia's family was hit in an attack at 8:30pm. The building collapsed. Relatives and neighbours came to assist, calling ambulances and civil defense crews.
Evacuation of casualties took two hours.
Seven of Fawzyia's family members died in the attack including her husband and three sons. Her home was completely destroyed.
Fawzyia incurred a depressed skull fracture, deep scalp wound, facial injuries, femur and tibia fractures and multiple trauma wounds all over her body. Three of her fingers were amputated in hospital.
Fawzyia: "We were fasting that day. We sat in peace in our home, eating our meal after a long day of fasting. Suddenly the house collapsed on our heads."