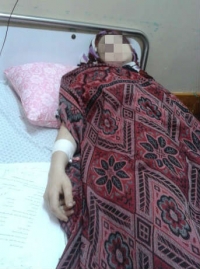 Name(s): Diana and Nuha
Age(s): 16 and 30
From: Shejaiiya
Date of injury: 20 July
All of Diana's extended family had gathered in one home as they felt safer together. The family had heard reports to evacuate their house and so made for the streets to search for a place to hide. While in the street they were hit.
Diana was severely injured sustaining wounds all over her body. Fragments had lodged into her lower limbs, abdomen and back and left an open wound in her shoulder. Diana's older cousin, Nuha, also suffered wounds to the body, open wounds to the abdomen and back and a comminuted fracture in her right leg.
The two cousins lay on the ground losing blood while neighbours desperately tried to contact emergency services. Two more explosions occurred and Diana and Nuha's family members were killed in front of them.
After three hours, private cars managed to transport the casualties to an ambulance which took them to hospital. Nuha underwent immediate abdominal surgery and an operation was performed on her right leg. Orthopedic surgeons treated the fracture in her left leg. Diana also received treatment for her injuries.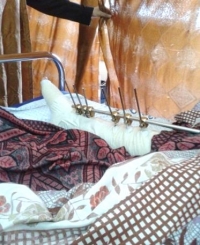 Both patients suffered from shock from the trauma. Diana lost her mother and two sisters in the attack and Nuha lost her husband and infant son. Twelve family members were killed altogether. The house the family was staying in was destroyed.
Diana: "We left our house after Iftar [break in the Ramadan fast] and headed towards my uncle's house and slept there. At around 6am we were told to leave the house and so we left. We were hit by a missile in the middle of the street. I didn't lose consciousness. I was carrying my nephew in my arms. He fell onto the ground. Then I saw my family, my parents and my brothers and my mother all lying unconscious on the ground… What else can I say?"
Nuha: "We stayed where we were because we couldn't walk... We stayed there a long time...The second missile hit and I was injured in my forehead and by shrapnel that hit my body. And my cousin was killed…My son was injured. His father came and got him and ran with him but he died in his arms. My husband also was hit in the stomach. I tried to call - I had my cell phone with me - I tried to call my family to call for an ambulance. They tried but could not reach me due to all the missiles…[I was] on the ground there bleeding, with my cousin there dead and my other cousin also bleeding. As soon as they saw a car they put me in it and drove me to the entrance of Shejaiiya where we found an ambulance…I woke up to find I had platinum in my leg and they had operated on my stomach and my forehead and now there is only some shrapnel left in my body, Alhamdulillah."