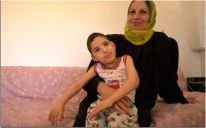 Ala Zahwahri in her mother's armsEight-and-a-half-year-old Ala' Zahwahri has mental and physical disabilities. Living in a house trapped between Har Homa settlement and the Barrier, her parents are obliged to take her on an arduous journey to Bethlehem, or Beit Sahur, each time they need to access medical services.
"Just last week, we needed to take Ala' to the doctor. She can't speak, but when she cries, we know something's wrong because usually she's very quiet. When she was little, we could drive her to Bethlehem or Beit Sahur ourselves in less than 15 minutes. That was before the Barrier was built a few metres away from our house. Nowadays, we first have to find a taxi driver who actually agrees to come here and drive us to Gilo checkpoint. Then, when we get there, we have to cross the terminal on foot carrying Ala' in our arms. On the other side, we need to take another taxi to the clinic or hospital. Altogether we pay about 45 shekels one way. Most of the time, the journey takes one to one and a half hours.
Ala' can't eat by herself, she can't even sit up. Mostly she just lies quietly on her couch. She needs constant care and the doctor says that she'll need that all her life. Here, where we live, there's no care for Ala' at all: no doctor, no mobile clinic. Nobody helps us to take care of her. About 100 metres from here, in the Israeli settlement, there's everything, but we're not allowed to go there. We have West Bank ID cards, although we live on the Jerusalem side of the Barrier.
We've repeatedly tried to register Ala' for health insurance with the Palestinian Authority, but we've had no success even though the officials are aware of her case. Fifty three members of our family live here in Um Al Asafir – nobody has health insurance. A friendly doctor in Bethlehem used to treat Ala' for free, but he died. Now, we not only have to pay for transport and medicine, but for doctors' visits too. All in all, we've spent over 500 shekels since last year.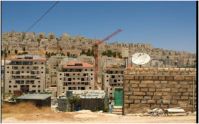 Har Homa settlement growing closer to Ala's houseWe have six other children. They're older and live with relatives in Beit Sahur so that they can go to school and university easily. From the hill outside our house we can see where they're staying, but to visit their sister Ala' they need to make the long journey through the Gilo checkpoint." (September 2010)
Dislocated communities: trapped by the Barrier
In addition to separating large parts of East Jerusalem and its population from the rest of the West Bank, the Barrier leaves approximately 1500 West Bank ID card holders on the "Jerusalem" side of the Barrier. They are cut off from centres that provide public sevices such as health and education in the West Bank.
To access hospitals, schools or even to go shopping the inhabitants of the dislocated communities have to take long detours and mostly have to cross checkpoints. They cannot drive to and from their homes because they are unable to receive yellow license plates, which would allow them to take their cars into Jerusalem.
The right to the highest attainable standard of health is enshrined in the WHO Constitution and numerous human rights instruments. Four criteria make up the right to health: availability, accessibility, acceptability and quality.
Related link