On 7 July, 2014, the Israeli army launched a military operation in the Gaza Strip. During the 50-day crisis over 2100 Palestinians were killed and more than 11 000 injured, 18 000 homes destroyed or severely damaged, with 108 000 homeless and over 290 000 people displaced.
Health facilities treating the sick and injured were damaged, some totally destroyed. During the hostilities 51% of all major hospitals and clinics in Gaza incurred damage.
WHO conducted assessment visits to hospitals during the war and spoke with patients. Here are some of their stories*.
WHO continues to work closely with the Palestinian Ministry of Health to provide much-needed health assistance to those affected by the recent violence.  
*Stories are personal accounts given directly by patients and/or affected family members. Interviews took place in Shifa hospital, Gaza City.
Madlin
Madlin is 13 years old from Shejaiiya. Her family had left their house for her grandfather's on 18 July 2014. Shelling began at 3:30am and lasted for an hour. Madlin's grandfather's house was hit, killing two of Madlin's brothers and injuring twelve others. Madlin incurred an open wound to her abdomen and a fractured arm.
Her father tried to use his car to transport the injured to hospital but the car was also hit, leaving him injured.
An ambulance arrived 30 minutes later to transport the casualties to hospital. Five days after her injury, Madlin was in a stable condition.
Madlin: "Mama woke us up and we sat outside where there wasn't any glass. My cousin came and sat with us. Then we tried to sleep - I was going to let my cousin sleep because she's young and she's afraid but we couldn't sleep. We prayed al-Fajr prayer (dawn prayer)… I got hit in the stomach and it felt like an electric shock. Then my grandfather came and carried me out of the house. My mother went looking for my sisters…I found my neighbour at the door and told him my stomach hurt. He made me sit on a little step. When I couldn't bear it [the pain] anymore, my brother took me to the street so that the emergency services could treat me. Our neighbour, Zeid, … brought a sheet to cover my stomach. The ambulance took a long time to arrive and I was feeling very dizzy. When they arrived they carried my brother and me into the ambulance and took us to hospital. During the ride to the hospital I recited verses from the Quran. When we got to the hospital I didn't feel anything."
---
Yamen
Yamen is a 4-year-old boy from Bureij camp. He was referred from al-Aqsa to Shifa hospital after being badly injured from the bombing of his home in central Gaza on 19 July 2014. Yamen's parents, grandfather and 5-year-old sister died in the attack which took place very early in the morning. His home was destroyed. 
Yamen suffers from head trauma and multiple skull fractures, burns over his body, a lung condition, haematoma of his liver and spleen and fractures in both arms and both legs. The child lay unidentified in hospital for days until a cousin of his father recognized him in the pediatrics surgery department. The Ministry of Health had announced a description of Yamen over national radio, calling for family to come forward and identify him. 
Yamen has been referred out of Gaza to Makassed Hospital in East Jerusalem.
---
Diana and Nuha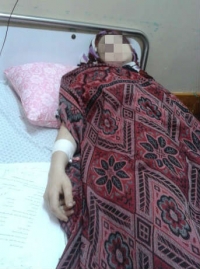 Diana and Nuha are 16 and 30 years old, respectively. On 20 July all of Diana's extended family had gathered in one home as they felt safer together. The family had heard reports to evacuate their house and so made for the streets to search for a place to hide. While in the street they were hit.
Diana was severely injured sustaining wounds all over her body. Fragments had lodged into her lower limbs, abdomen and back and left an open wound in her shoulder. Diana's older cousin, Nuha, also suffered wounds to the body, open wounds to the abdomen and back and a comminuted fracture in her right leg.
The two cousins lay on the ground losing blood while neighbours desperately tried to contact emergency services. Two more explosions occurred and Diana and Nuha's family members were killed in front of them.
After three hours, private cars managed to transport the casualties to an ambulance which took them to hospital. Nuha underwent immediate abdominal surgery and an operation was performed on her right leg. Orthopedic surgeons treated the fracture in her left leg. Diana also received treatment for her injuries.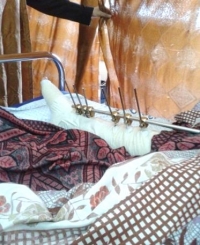 Both patients suffered from shock from the trauma. Diana lost her mother and two sisters in the attack and Nuha lost her husband and infant son. Twelve family members were killed altogether. The house the family was staying in was destroyed.
Diana: "We left our house after Iftar [break in the Ramadan fast] and headed towards my uncle's house and slept there. At around 6am we were told to leave the house and so we left. We were hit by a missile in the middle of the street. I didn't lose consciousness. I was carrying my nephew in my arms. He fell onto the ground. Then I saw my family, my parents and my brothers and my mother all lying unconscious on the ground… What else can I say?"
Nuha: "We stayed where we were because we couldn't walk... We stayed there a long time...The second missile hit and I was injured in my forehead and by shrapnel that hit my body. And my cousin was killed…My son was injured. His father came and got him and ran with him but he died in his arms. My husband also was hit in the stomach. I tried to call - I had my cell phone with me - I tried to call my family to call for an ambulance. They tried but could not reach me due to all the missiles…[I was] on the ground there bleeding, with my cousin there dead and my other cousin also bleeding. As soon as they saw a car they put me in it and drove me to the entrance of Shejaiiya where we found an ambulance…I woke up to find I had platinum in my leg and they had operated on my stomach and my forehead and now there is only some shrapnel left in my body, Alhamdulillah."
---
Shahid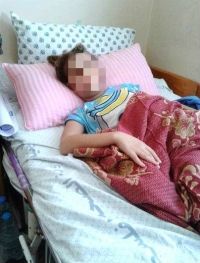 Shahid is a 10-year-old girl from Al-Shejaiiya. Shahid's family house was hit by an explosion at dawn when the family of eight was gathered together in one room. Much debris entered the room and Shahid was found semi-conscious on the floor, bleeding from her ear. The family fled the house and called for emergency assistance but found that ambulances could not access to the area due to the insecurity. Shahid's father carried his daughter, running and walking for three kilometres until he found an ambulance which transported Shahid to hospital. Shahid waited two hours in the ER for treatment because it was filled with trauma patients. She was frightened and vomited blood. A CT was taken and she was sent to pediatrics for observation. A physician advised specialized neurologist care and referral outside of Gaza. 
Sharid's father, Anwar: "I called 102 for the ambulance and they answered that there is no access to Shejaiiya. It is very dangerous and everyone is a target." 
Sharid's mother, Amani: "I told my children, 'Don't look down at the street or the people - just run!'"
---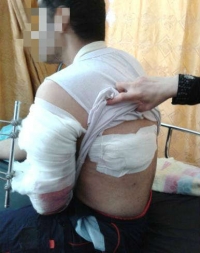 Raed 
Raed is 37 years old from Deir al-Balah (displaced from Bureij). Raed's family left their home in Bureij camp on 21 July for his sister's house in Deir al-Balah because of heavy shelling. Living conditions were very crowded with four families, 30 persons, staying in the same small house and the area was not safe so Raed's family decided to return to Bureij after two days. Eighteen people were in the street when they were hit. A 10-year-old girl was killed. More explosions  immediately followed injuring Raed and two of his nephews. One of Raed's nephews, Mohamed, 12, suffered cut arteries in both his legs. Ahmad, 11, sustained a fractured tibia and multiple shrapnel wounds. Raed sustained comminuted fractures in his left arm with radial nerve damage and an open wound in his back.
Mohamed, Ahmed and Raed were all taken to hospital for treatment. One child from the family was killed and 15 people were injured.
Raed: We were in Deir al-Balah and going to move to Al Bureij. We stopped a car to take us, the wife of my brother and my female cousins with their daughters. They stopped the car in front of the house. We were standing by our house …. I was just saying to them how lucky we were to find a car.
Suddenly the first rocket was fired on us. The child Rawan was injured, her head went off her body.... A second rocket injured me, my sister, the son of my brother, two sons of my sister and my brother's wife. I tried to walk with difficulty along the wall to go into the house. I went to check on my wife and children. I was afraid that the whole house would be demolished.
Then many people came and I was taken with my injured sister and her boy to Al Aqsa Hospital in a car.
On our way to the hospital I saw an ambulance coming to take the others. At Al Aqsa hospital I received first aid and then I was transferred with my nephew Mohamed to Al Shifa Hospital."
---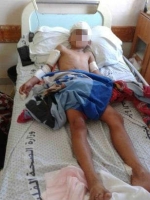 Ahmed
Ahmed is a 9-year-old boy from Shate camp. On the first day of Eid al-Fitr, Ahmed was playing in the street with his friends, taking turns on a swing. There was an attack resulting in 13 fatalities and 45 casualties. Family members ran into the street and found children covered with blood, some killed and some injured. Ahmad's father carried him to hospital. Ahmed sustained wounds to the head, his face, and both upper and both lower limbs. The surgical operation to remove fragments from his body took three hours and 38 sutures. At the time of interview, Ahmed was suffering from panic and shock from losing his friends.
Ahmed lost his good friend Mohamed. He said: "Mohamed was covered with blood".
---
Sabrin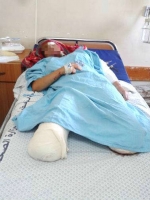 Ahmed is a 19-year-old girl from Zaitoun area. Sabrin was with her family in an UNRWA school converted into a shelter after they were displaced from their home. She and her sister, Fatima, along with some neighbours had returned to her house to cook food and collect some of the family's items. The house was hit, killing Fatima and injuring Sabrin severely. Neighbours saw smoke coming from the house and rushed to the scene. Both girls were evacuated to hospital in a private car.
Sabrin had amputation of both her legs and sustained upper arm and forearm fractures. At the time of interview, she was scheduled for referral to Makassed hospital in East Jerusalem.
---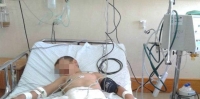 Ahmed 
Ahmed is a 13-year-old boy from Tuffah. Ahmed was standing in line to fetch potable water from a water point across the street from where his family lives. After hearing an explosion, his family raced outside to find him lying on the ground. Ahmed sustained a penetrating injury to the left side of his head. He was taken to hospital and admitted into ICU.
WHO spoke with Ahmed's father at the hospital.
---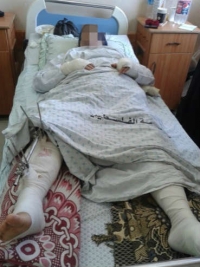 Fawzyia 
Fawzyia is a 50-year-old woman from Jabalia camp. The three-storey building housing Fawzyia's family was hit in an attack at 8:30pm. The building collapsed. Relatives and neighbours came to assist, calling ambulances and civil defense crews.
Evacuation of casualties took two hours.
Seven of Fawzyia's family members died in the attack including her husband and three sons. Her home was completely destroyed.
Fawzyia incurred a depressed skull fracture, deep scalp wound, facial injuries, femur and tibia fractures and multiple trauma wounds all over her body. Three of her fingers were amputated in hospital.
Fawzyia: "We were fasting that day. We sat in peace in our home, eating our meal after a long day of fasting. Suddenly the house collapsed on our heads."