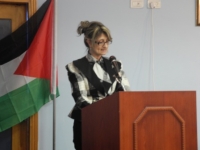 Dr Randa Abu Rabie at a joint Ministry of Health and WHO World Blood Donor Day ceremony 201214 June – The World Health Organization and the Palestinian Ministry of Health celebrated World Blood Donor Day under the patronage of Ramallah Governor Layla Ghanam. This year's theme was "Every blood donor is a hero." In addition, the national blood bank used the theme "Palestinian Blood is precious and not to be bought or sold."
The aim of the day was to encourage more people to volunteer to donate their blood and to acknowledge goodwill donors who regularly and voluntarily donate their blood, saving many lives.
The transfusion of blood and blood products helps save millions of lives every year. Transfusions are necessary for surgeries and for patients suffering from life-threatening conditions. WHO is committed to support the Palestinian national capacity to provide safe blood and blood products for all.