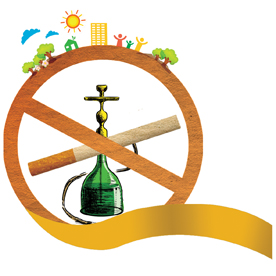 Tobacco-free public places means that all indoor workplaces and indoor public places should be 100% smoke-free.
June 2013, occupied Palestinian territory - The tobacco epidemic is one of the biggest public health threats the world has ever faced. It kills nearly 6 million people each year. More than 600 000 of these deaths are non-smokers exposed to second-hand smoke.
WHO supports the Ministry of Health of Palestine in implementing the provisions of the WHO Framework Convention on Tobacco Control (FCTC), an evidence-based treaty that reaffirms the right of all people to the highest standard of health. The Convention represents a milestone for the promotion of public health and provides new legal dimensions for international health cooperation.
As per article 12 of the FCTC parties should promote and strengthen public awareness of tobacco control issues, using all available communication tools, as appropriate.
In line with this, the Ministry of Health and WHO, in cooperation with the National No Tobacco Committee, has initiated a No Tobacco awareness-raising campaign focusing on the right to health and addressing the rights of individuals to be protected from second-hand smoke.
Under the theme "It's my right to live in a smoke-free environment", a number of mutually re-enforcing communication materials have been produced, including radio and television spots, posters and stickers.
The campaign highlights the responsibility of parents in ensuring a smoke-free environment at all times for their children. In addition, it aims to target workers to raise their awareness of their right to work in a smoke-free environment.
No Tobacco campaign's materials (In Arabic):
TV spot "it's my right to live in smoke free house"
Coffee shop poster (It's my right to live in smoke free environment)
Home poster (It's my right to live in smoke free house)
Work poster (It's our right to work in smoke free environment)
Sticker (It's my right to live in smoke free environment)
Other materials (In Arabic):