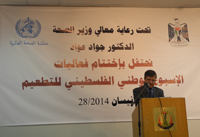 The Palestinian Minister of Health Dr Jawad Awad at the World Immunization Week event in Ramallah, April 30 2014 8 May 2014, Ramallah – Palestine marked World Immunization Week on April 30 2014 with an event to raise public awareness on how immunization saves lives. The event was sponsored by the Palestinian Minister of Health, Dr Jawad Awad, and attended by more than 100 participants including staff from all preventive medicine departments in the West Bank, health directors of all districts, representatives from UNRWA, nongovernmental organizations, private physicians and United Nations agency staff.
Primary health care director, Dr Asad Ramlawi, gave a presentation on immunization at the global, regional and local levels and emphasized the success of the Palestinian national programme for immunization in achieving nearly 100% vaccination coverage. He stressed the importance of maintaining this coverage to save lives and avoid the cost of treating infections.
WHO was represented by Dr Randa Abu Rabei who presented the theme for 2014 World Immunization Week, which is "Are You Up-to-Date?" She pointed out that immunization is important for all members of the family and that everyone should be vaccinated, not only infants but people of all ages.
This is a community responsibility, she said, and countries need to address the existing barriers to immunization in order to achieve the best vaccination coverage. She highlighted the recent poliomyelitis (polio) campaign as a success story illustrating the quick response of the national vaccine programme.