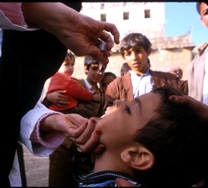 A child in Yemen receiving polio drops.Sana'a, 27 January 2013 – Under the patronage of the Prime Minister of Yemen, the Ministry of Public Health and Population in Yemen launched a house-to-house national immunization campaign against polio, targeting around 4.6 million children through 19 000 mobile teams and mobilization of more than 38 000 health workers and volunteers. The campaign started on 27 January and lasted for three days. Vitamin A was also given to children during the campaign.
Special arrangements have been made to implement the campaign in the conflict-affected areas, where the local authorities and communities played an essential role to guarantee access to these areas.
Routine immunization coverage was high at 87% in 2010 but decreased to 81% and 82% in 2011 and 2012, respectively, due to the events of 2011 in Yemen. Yemen implemented two rounds of national immunization days in 2012 in order to boost the immunity of children and to sustain its polio-free status.
Yemen has been polio-free since February 2006 and through these national campaigns the risk of re-importation of polio to Yemen will be reduced.
WHO, UNICEF  and the World Bank were the main partners in supporting the Ministry of Health and Population in undertaking this campaign. WHO also mobilized the staff of country office to monitor the implementation of campaign in different governorates and will also conduct an independent assessment of the coverage.