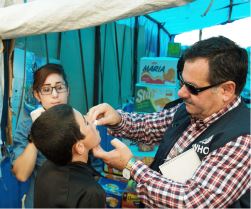 The Expanded Programme on Immunization (EPI) was established in 1974 through World Health Assembly resolution (WHA27.57). The resolution urged countries to build on the success of the global smallpox eradication programme, and to ensure that all children in all countries benefited from life-saving vaccines.
Immunization coverage decreased among one-year-olds between 1990 and 2013 for BCG from 96.0% to 90.0%; DTP3 from 83.0% to 68.0%; measles from 75.0% to 63.0%; and polio from 83.0% to 70.0%. Neonatal tetanus coverage has improved during the same period from 70.0% to 72.0%. In 2013, hepatitis B (HepB3) vaccine coverage among one-year-olds was 66.0%.
The country's immunization strategy is to administer routine vaccination, conduct national immunization days and maintain surveillance. Haemophilus influenzae type b and rotavirus vaccines were introduced in 2012. Other achievements have included validation of maternal and neonatal tetanus elimination by WHO and the United Nations Children's Fund, expansion of vaccine storage capacity and the development of a draft comprehensive multi-year plan for the EPI. An EPI coverage survey will be conducted in 2015–2016. Due to the serious measles situation, the Ministry of Health is implementing a measles follow-up campaign, and 2 nationwide polio eradication campaigns will be undertaken in the remaining part of 2015 and two in the first half of 2016.
The main priorities are to improve coverage by all vaccines to at least 90% by 2015, stop the ongoing measles outbreaks and other vaccine-preventable diseases among internally displaced people, introduce pneumococcal conjugate vaccine and inactivated polio vaccine by November 2015, and replace trivalent oral polio vaccine with bivalent oral polio vaccine in April 2016. A comprehensive communications strategy for secure and insecure areas needs to be developed for vaccinating all children.
Related links