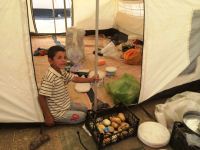 Garmawa camp in Dohuk hosts more than 800 internally displaced Iraqis6 July, 2014, Erbil, Iraq -- The governorate of Dohuk in Iraq's Kurdistan region has seen its population increase by almost 20% over the past three years, hosting more than half of the country's Syrian refugees in the country and receiving an additional 200 000 internally displaced Iraqis in June 2014.
"At the beginning of the Mosul crisis, we set up mobile health clinics at the border crossing between Mosul and Dohuk, stocked with medicines and medical supplies provided by WHO," said Dr Bakhtiyar Ahmed, head of the technical department. "Many of those being treated had bullet wounds and shell injuries.
There were also three babies delivered at the mobile clinic and 28 women were referred to Dohuk maternity hospital."
According to Dr Ahmed, between 40% and 60% of admissions to hospitals in Dohuk are internally displaced persons and refugees.  "We are trying to cope with the increased caseload, and our network of primary health care centres is supporting this. One of our main challenges is ensuring the regular supply of medicines and medical consumables. We are trying to procure what we can from the local market, and organizations such as WHO are also helping us. "
Doctors at hospitals in Dohuk say they are seeing more cases of patients with renal disease, hypertension and diabetes, and that medicines for chronic diseases are in short supply. Dohuk maternity hospital now sees more than 90 deliveries a day, as opposed to 60 deliveries in May 2014.
While the majority of IDPs live among the host communities, those with no relatives in Dohuk or who cannot afford to rent accommodation have found a home in Garmawa camp, which opened on 11 June.
Garmawa camp currently hosts more than 800 displaced Iraqis. Families live in tents in the blistering heat which can reach up to 45 degrees centigrade in the summer and some have to walk almost 400 metres to reach one of two water pumps available in the camp. Construction of water wells is ongoing and food is provided by local charities and the community.  
 "Our home was completely destroyed in the fighting," said 55-year old Abdel Motaleb Ahmed, who comes from a town near Rashidia, north of Mosul. "We had nothing left. I didn't want to leave – I was ready to die in my own home -- but I had to make sure my wives and children were safe. We started walking towards Dohuk. We walked for three hours until we were able to find a car to take us the rest of the way." Ahmed suffered a stroke almost four years ago, and his wife says that the 3-hour walk was extremely difficult for him. Together with their two children, as well as Ahmed's second wife, sons and grandchildren, they arrived at Garmawa camp for internally displaced Iraqis in Dohuk the day it opened. 
Life in the camp has not been easy for Ahmed and his family. His wife says that their 8-month-old son has suffered from diarrhoea since they arrived. Ahmed, who is diabetic, has not been able to take insulin regularly. "But we think the services here will improve. We have nothing left where we came from, and we will never go back," she said. 
Health services are provided in a clinic staffed by one doctor and two nurses from the Dohuk Directorate of Health. The doctor on call said she sees an average of almost 50 patients a day, half of whom are children suffering from diarrhoea, dehydration and skin diseases.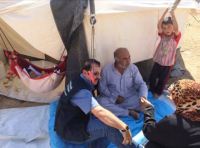 WHO assessment mission to the campWHO is working with the Department of Health to establish a diseases surveillance system in the camp, as well as strengthening disease early warning alert and response systems in areas throughout the governorate where IDPs are located. 
"One of our main priorities is to minimize the risk of infectious diseases, especially in camps and other public spaces where IDPs live in overcrowded conditions," said WHO Representative in Iraq Dr Syed Jaffar Hussain. "WHO has established a suboffice in Dohuk and deployed four public health experts to coordinate the health response and support the Directorate of Health in ensuring the availability of optimum health services to displaced populations."