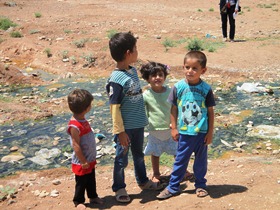 Stagnant drainages in camps hosting internally displaced persons are potential breeding places for waterborne diseases, especially diarrhoea. Photo credit: WHO
27 June 2014, Erbil, Iraq – The current crisis in Iraq presents major challenges for the control of disease outbreaks. As a result of the recent violence and resulting internal displacement of more than 500 000 people to the Kurdistan region of Iraq, there is increased risk of outbreaks due to strains on housing, water supply and sanitation. As the summer season sets in, water insecurity in camps hosting internally displaced persons may also contribute to increased episodes of epidemic diarrhoeal diseases.
The Kurdistan region also hosts 250 000 Syrian refugees, according to the United Nations UNCHR, many of whom live in camps where living conditions are overcrowded and water and sanitation services are overstrained, despite ongoing efforts by the government and partners to improve living conditions for the refugees. These factors can increase the risk of diarrheal diseases.
Cholera is of particular concern as it is endemic in the northern part of Iraq and has potential to cause large scale morbidity and mortality. Large scale outbreaks of cholera were reported in the Kurdistan region in 2007, 2008 and 2012.
Considering this threat, the Ministry of Health has requested support from WHO in assessing the risk of cholera in Iraq, as well as organizing crash training courses for national health staff on case management and control of diarrhoeal diseases, with a special focus on camp settings.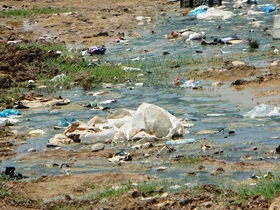 WHO's Global Outbreak Alert and Response Network deployed three experts from the International Center for Diarrheal Disease Research, Bangladesh, including two cholera case management and one laboratory specialist to the Kurdistan region. The experts were joined by communicable disease experts from WHO's Regional Office and Iraq country office. Their goals were to:
assess the risk of cholera and other epidemic diarrhoeal diseases outbreak in IDP camps
assess surveillance, outbreak preparedness and response capacity, and
provide guidance and advise to the Ministry of Health on updating revising the cholera preparedness plan based on the risk assessment.
The team conducted a hands-on training workshop on the management of diarrhoeal diseases for 23 health professions in Erbil, as well as a training of trainers workshop for senior health professionals throughout the Kurdistan Region. The team will also be conducting two additional workshops in Duhok and Sulimaniya during the last week of June to ensure capacity-building of national health staff on the management of diarrhoeal diseases.
"With an additional half a million refugees and IDPs now present in the Kurdistan region, we are extremely concerned about the risk of communicable diseases, especially cholera. With the support of WHO, we want to make sure that our health system and staff are fully prepared to handle all cases so that the risk of outbreaks is minimized," said DrRekawt Hama Rasheed, Minister of Health of the Kurdistan region of Iraq.
Related link