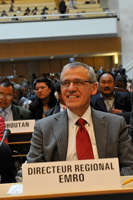 The WHO Regional Office for the Eastern Mediterranean exhibited for the first time regional information products during the Sixty-fifth session of the World Health Assembly (WHA65), which started on Monday 21 May 2012 in the UN Palais des Nations, Geneva. The World Health Assembly provides a unique opportunity for WHO regional offices to communicate, interact, share and disseminate their information products with delegates from different organizations and countries.
The exhibition display of the WHO Regional Office for the Eastern Mediterranean was visited by many delegates from different countries, other WHO regional offices, UN agencies and nongovernmental organizations.
More than 400 copies of the three issues of e-Publications, the Eastern Mediterranean Series on CD and DVD, were distributed during the Assembly. The e-Publications series received a great deal of interest and requests for future cooperation with the Regional Office to adapt and implement the same product in different regions were received.
The exhibit focused mainly on sharing and disseminating health information products in electronic format related to the current priority themes of prevention and control of noncommunicable diseases, the Millennium Development Goals (MDGs) and equitable access to health services. Also, 22 selected titles in print of the most recent WHO Regional Office publications were also displayed.
Photographs of the WHO stand