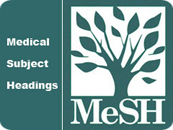 Medical Subject Headings (MeSH) is a comprehensive list of controlled vocabulary consisting of sets of subject headings, or naming descriptors, arranged in both an alphabetic and a hierarchal structure to facilitate searching of biomedical, health and scientific information at various levels of specificity. The subject headings are accompanied by a short description or definition, links to related headings and a list of synonyms or very similar terms, which are known as entry terms. For this reason, MeSH can also be viewed as a thesaurus.
MeSH was developed and is updated by the United States National Library of Medicine. It is used by MEDLINE/PubMed and by the National Library of Medicine's database to catalogue books, documents and audiovisuals and to index articles from the world's leading biomedical journals.
MeSH has been translated by the Regional Office into Arabic to allow for the indexing, organizing and retrieval of information and information products in Arabic. Arabic MeSH is used by the Index Medicus for the Eastern Mediterranean Region.