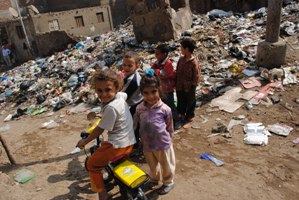 Outbreaks of plague are often linked to poverty, civil disturbances and war, and when the health infrastructure and facilities have broken down. Photo credit: WHO
Plague is a zoonotic disease caused by enterobacteria Yersinia pestis. It is primarily carried by rodents and spreads to humans and other animals via fleas. Direct person-to-person transmission does not occur except in the case of pneumonic plague, when respiratory droplets may transfer the infection from the patient to others in close contact.
Infected persons usually start with "flu-like" symptoms after an incubation period of 3 to 7 days. Patients typically experience the sudden onset of fever, chills, head and body aches and weakness, vomiting and nausea. Clinical plague infection manifests itself in three forms depending on the route of infection: bubonic, septicaemic and pneumonic.
There are natural foci of plague infection in rodents in many parts of the world. Wild rodent plague is present in central, eastern and southern Africa, South America, the western part of North America and in large areas of Asia. In some areas, contact between wild and domestic rats is common, resulting in sporadic cases of human plague and occasional outbreaks.