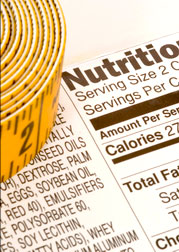 The food label is one of the most important and direct means of communicating product information between buyers and sellers. It is one of the primary means by which consumers differentiate between individual foods and brands to make informed purchasing choices.
Food labels provide:
basic product information including common name, list of ingredients, net quantity, durable life date, grade and quality, country of origin, and name and address of manufacturer, dealer or importer;
health, safety and nutritional information including instructions for safe storage and handling, the quantity of fats, proteins, carbohydrates, vitamins and minerals present per serving of stated size of the food, and specific information on products for special dietary use;
a vehicle for food marketing, promotion and advertising via label vignettes, promotional information and label claims such as "low fat", "cholesterol-free", "high source of fibre", "organic", "no preservatives added", and so on.
One of the strategic approaches of the regional strategy on nutrition (2010–2019) is to provide comprehensive information and education to the public. This includes the introduction of nutrition labelling schemes that support healthy choices at the point of purchase. Most countries in the WHO Eastern Mediterranean Region have now developed policy and schemes on food labelling.