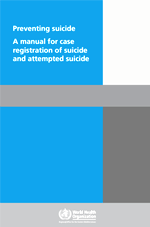 Suicide is a major public health problem which accounts for approximately 1 million deaths globally every year. Over 60% of suicides in the world are believed to occur in low- and middle-income countries. However, there is a lack of information regarding the actual burden of suicide in these areas.
The lack of knowledge about suicide in low- and middle-income countries is thought to be connected to the non-existence or fragmented nature of suicide registration systems within these countries. For instance, in some countries, data on intentional self-harm may be included within an aggregate category of external injuries, which makes suicide difficult to distinguish from alternate causes of death, such as accidents or homicides. Or, data on suicide may only be partially available; for example, the sex of the individual may be recorded without information on the method of suicide.
It is estimated that the incidence of suicide attempts is 20 times or more that of completed suicide. A history of attempted suicide is an important indicator of future suicide attempts and of suicides. As such, the morbidity, financial toll and overall burden of disease associated with suicide attempts are substantial. However, registers for non-fatal suicidal behaviour ("suicide attempts" or "intentional self-harm") are virtually non-existent.
With incomplete or limited information, it is difficult to quantify the mortality, morbidity, financial toll and other societal ramifications associated with suicidal behaviour leading to suicide and non-fatal suicidal behaviour not being on the public health agenda.
The goal of this manual is to provide step-by-step instruction on how to establish an effective and reliable registration system for fatal and nonfatal suicidal behaviour and monitor trends using standard recording practices and the International Classification of Diseases (ICD) in order to improve knowledge about the incidence and trends of suicide and suicide attempts at a national or subnational level.
This manual is intended for countries or subregions within countries that have nonexistent or fragmented and ineffective suicide and/or suicide attempt registers. However, the steps outlined may also be instructive to those countries with already established suicide registration systems.
Preventing suicide: a manual for case registration of suicide and attempted suicide [332kb]