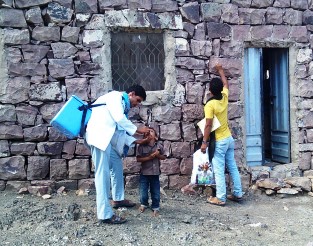 Sana'a, 21 April 2016 – Yemen's Ministry of Public Health and Population, with support from WHO and UNICEF, has concluded a national house-to-house polio immunization campaign, targeting 5 019 948 children under the age of 5 across the country.
During the campaign, more than 4.5 million children (90% of target) were successfully vaccinated by more than 40  000 health workers. 
Members of local councils and civil society representatives were engaged to mobilize support and raise awareness about the importance of the polio vaccination among communities. The campaign reached children in high-risk groups, such as internally displaced persons and refugees.
"Yemen has been polio-free since 2006, and WHO is committed to maintaining this status. Despite serious security challenges, vaccinators in all governorates were dedicated and committed to vaccinating children against this disease. A polio outbreak in the current context of conflict and insecurity would be disastrous, as it would set back years of achievement and threaten global polio eradication efforts. This is something we are determined to prevent," said Dr Ahmed Shadoul, WHO Representative in Yemen.
Related link
For more information, contact:
Sadeq Hasan
WHO Yemen
+967733096603
Cette adresse email est protégée contre les robots des spammeurs, vous devez activer Javascript pour la voir.