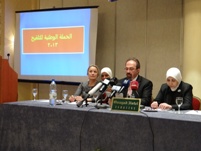 WHO, the Ministry of Health and UNICEF highlight the importance of the media in supporting national vaccination campaignsOn 11 March 2013, WHO together with the Ministry of Health and UNICEF conducted a conference for journalists on the upcoming national vaccination campaign beginning on 17 March 2013. The objective of the conference was to stress the importance of the media in raising parents' awareness of the necessity of vaccinating their children and supporting the campaign.
The workshop was opened by the Minister of Health of the Syrian Arab Republic Dr Saad al-Naif, WHO Representative for the Syrian Arab Republic Ms Elizabeth Hoff, and UNICEF National Programme Officer in Syria Dr Iman Bahnassi.
» Lire l'article complet
Damascus, 28 March 2013 - Following the reported possible deliberate release of chemical agents near Aleppo in Syria on 19 March 2013, WHO, in response to a number of patients seeking medical care in the public university teaching hospital in Aleppo, contacted the health authorities of Aleppo to inquire as to how WHO could best assist. 
Whilst the public health risk assessment is being conducted, given the documented shortages of medicines and medical supplies in Aleppo, WHO promptly dispatched emergency medical supplies, including medicines for common disease, diarrhoeal diseases and trauma injuries to arrive at the teaching hospital in Aleppo.
WHO was informed on 21 March that the shipment had not reached its destination, and was being held in Khan Al Subol (between Saraqeb and Muarat Al Numan) outside Aleppo. 
The recent escalation of the conflict has resulted in substantial damage to health facilities across the country, limiting access and the provision of essential health services.
» Lire l'article complet
Media urged to support upcoming national vaccination campaign

WHO sends emergency medical supplies to Aleppo