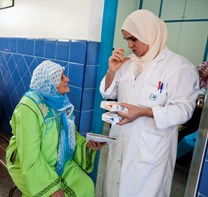 Proper case management will lead to a TB-free Region.
The bacillus causing tuberculosis (TB) was identified in 1882, although the disease itself has been known for thousands of years. Yet, 132 years since the discovery of the bacillus, and 60 years since the discovery of the first anti-TB medicine, TB remains one of the major health problems for humanity. 
According to WHO estimates, the Region is responsible for about 6–7% of the global burden of TB, with an estimated 670 000 TB cases in 2013 and an incidence rate of 109 per 100 000 population.
WHO declared TB a global public health emergency in 1997. Since then, major progress has been made towards the Stop TB Strategy's global targets for 2015 and the TB-related Millennium Development Goal 6 (MDG 6). 
Countries have been making considerable efforts to improve their performance both in terms of the diagnosis and the treatment of TB.  
A significant decline in the regional rates of TB prevalence and mortality has been reported. The Region has achieved the global target of halving TB mortality compared to 1990. 
Reductions in prevalence have been considerable since 1990, and appear to have accelerated since 2000. Nonetheless, current forecasts suggest that the Region needs to do more to achieve the 2015 target of halving prevalence compared to 1990. 
However, the incidence of TB in the Region declined at a low rate of less than 1% per year from 1990 to 2013. 
The Region has achieved a high treatment success rate of 88% for more than 5 years.
As for multidrug-resistant TB (MDR-TB), the Region has a low burden of 3.5% of new TB cases and 32% of previously-treated cases. Most countries in the Region have established MDR-TB management in line with WHO guidance. However, it is estimated that the Region has only detected 12% of MDR-TB cases and has enrolled 72% of these cases on treatment.