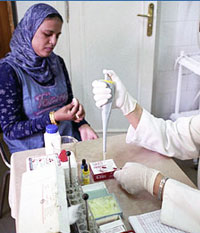 It was estimated that in the Eastern Mediterranean Region in 2008:
52 000 women and 510 000 newborns died due to pregnancy and childbirth complications
50% of newborn babies were delivered away from health care facilities
40% of mothers and newborn babies were left unattended by skilled health personnel
The total fertility rate was as high as 4.0 children per woman.
Safe motherhood – maternal and neonatal health and family planning – is the priority component of reproductive health in all countries of the Region. Skilled birth attendance and family planning are the most effective measures for promoting maternal and newborn health.