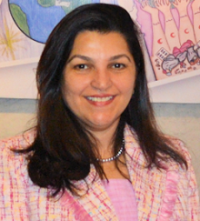 Dr Naeema Al-Gasser, WHO Representative in Egypt
Dr Naeema Al-Gasseer (Bahrain) has been assigned to the position of WHO Representative in Egypt, effective 4 August 2020. She was formerly Senior Adviser, Office of the Regional Director, and WHO Representative in Sudan.
Dr Al-Gasseer joined WHO in 1999 as Senior Scientist for Nursing and Midwifery, Geneva, responsible for the coordination and integration of nursing and midwifery issues in the work of WHO policy and programmes.
She later served as WHO Representative in Iraq, before being reassigned to the post of Assistant Regional Director in 2010, where she focused on strengthening health systems based on research and evidence.
Prior to joining WHO, she was Regional Advisor for Reproductive Health and Family Planning at UNFPA from 1996, where she conducted health system assessments including reproductive health situation analysis in countries of the Middle East.
From 1992 until 1996 she worked at the Ministry of Health planning unit on developing the strategy for health in Bahrain. She was also active at national level in preparing documents for the UN and WHO on progress made in relation to resolutions on health and development.
Dr Al-Gasseer graduated with an Associate Degree in Nursing from Bahrain in 1978, and obtained a Doctorate in Nursing Sciences in the area of women's health from the University of Illinois, Chicago, USA, in 1990.
Dr Al-Gasseer was the first Arab to receive an honorary award of Doctorate of Science (DSci) from Glasgow Caledonian University, Scotland, UK in 2005 and received an American Academy of Nursing Fellowship in 2010. During her career, Dr Al-Gasseer has been involved with health system assessment, quality of health care programmes and developing health strategy.