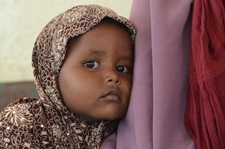 Mogadishu/Garowe/Hargeisa (24 April 2013) – The Somali authorities launched a new five-in-one-vaccine against several potentially fatal childhood diseases on Wednesday, which could save thousands of lives.
From today, Somali children will receive the pentavalent vaccine, a combination of five vaccines in one against diphtheria, tetanus, pertussis (whooping cough), hepatitis B and Haemophilus influenzae type B (Hib) - the bacteria that cause meningitis, pneumonia and other illnesses, all of which are highly prevalent. The vaccine will be part of Somalia's routine immunisation programme.
More than 1.3 million doses of pentavalent vaccine have been provided to Somalia for 2013 and will be used to immunise children under one year of age.
» Full story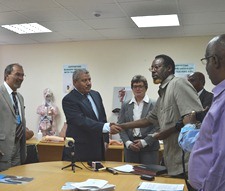 27 February 2013, Nairobi, Kenya – Today, HE Ghorm Said Malhan, Ambassador of the Royal Embassy of Saudi Arabia in Kenya, handed over a variety of medical teaching aids to Dr Abdirizak Hassan Ali, Professor of Anatomy and Surgery, on behalf of Benadir University, Mogadishu, Somalia at the WHO country office in Nairobi. The anatomical teaching aids will expand the limited educational resources and learning materials available to the students of the School of Medicine of Benadir University.
"For more than a decade after the beginning of the civil war in 1990, no institution in southern Somalia offered higher education opportunities to the youth willing to pursue medical studies," said Dr Abdirizak Hassan Ali, who is also Co-chair of the Board of Trustee of Benadir University and director of Benadir Hospital
» Full story
Children in Somalia to receive new vaccination against deadly diseases

Saudi Arabia Ambassador hands over medical teaching aids to Benadir University