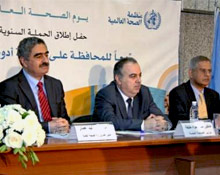 The World Health Day was celebrated by the World Health Organization on 7 April 2011. The theme for this year was "Combat Drug Resistance", which was particularly chosen to draw worldwide attention to a subject of major importance to global health. This WHO, since its establishment more than six decades ago, has celebrated World Health Day every year. This period has witnessed key improvements in the control of diseases by antimicrobials. The success achieved in the control of communicable and chronic diseases through optimal therapeutic management is considered to be a victory for the various global public health initiatives; and for the realization of WHO's vision of assuring effective drugs for those who need them in order to reduce the risk of microorganisms to individual and to community health.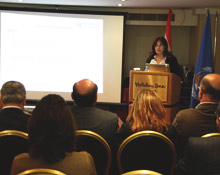 The participants included representatives from the Ministry of Public Health, the Ministry of Environment, the Ministry of Agriculture, the Ministry of Labor, and the Ministry of Information, academicians from the American University of Beirut, the Lebanese University, the Saint Joseph University, the Balamand University, a representative from the High Relief Committee National Center of Scientific research (CNRS), the director of the Lebanese Agriculture Research Institute activists from different local Newspapers, NGOs representatives, etc.

The Acting World Health Organization Representative in Lebanon, Dr. Daher Daher Aden; the Director General of the Ministry of Public Health, Dr. Walid Ammar and the representative from the Ministry of Environment, Mr. Jeryess Berbari delivered speeches during the opening of the workshop.
» Full story
World Health Day 2011

National workshop on Climate Change and Health: Impacts and Adaptations