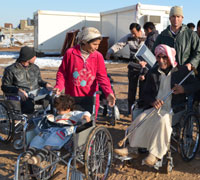 "The current security situation in Syria along with the aspiration to protect my children forced me to leave my home," said Samira a middle-aged Syrian mother who fled home with her four children, seven months ago.
"We are living in precarious conditions in a crowded place but,  Alhamdu Lillah we are safe and healthy receiving food and health care services free of charge". Samira said with tears in her eyes.
Samira Jaffar vaccinated her children and visited the primary health care centers inside Domiz camp several time.
» Full story
Less than three years remain until the 2015 deadline to achieve the United Nation's Millennium Development Goals (MDGs). Over the last two decades, slow but sustained progress has been made in improving maternal health (MDG 5) in Iraq.
The maternal mortality ratio fell by 29% from 89 in 1990 to 63 in 2010. The proportion of deliveries attended by skilled health personnel rose considerably from 50% in 1990 to 88.5% in 2011 and institutional deliveries increased from 62% in 2006 to 75% in 2011. However, this progress will still not be enough for Iraq to meet the planned MDG 5 target of reducing the maternal mortality ratio by 75% in 2015.
The effects of war, internal conflict and sanctions have contributed to the slow pace of decline in maternal mortality, placing Iraq in the group of 68 countries that account for 97% of all maternal and child deaths globally according to Trends in maternal mortality: 1990 to 2010: WHO, UNICEF, UNFPA and The World Bank estimates.
» Full story
WHO: Providing Health Care to Syrian Refugees in and outside the camps

A long way to go to achieve MDG 5: Maternal deaths drop by 29% from 1990 to 2010 in Iraq, 17 March 2013