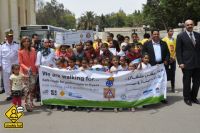 Pedestrian deaths account for 22% of all annual global road deaths. More needs to be done to make our world more walkable by providing safe, reliable and accessible facilities for all pedestrians.
To celebrate the second United Nations Global Road Safety Week from 6 to 12 May 2013, the Ministry of Interior and Egyptian National Road Safety Council, in collaboration with WHO/Egypt, organized a series of activities with the active participation of the Ministries of Health and Population, Transport, Education and others, the Egyptian Red Crescent, Egyptian Society for Road Safety and  other nongovernmental and civil society organizations. 
Under the theme of "Make Walking Safe", the Week seeks to draw attention to the needs of pedestrians; generate action on measures to protect them; and contribute to achieving the goal of the Decade of Action for Road Safety 2011–2020 to save 5 million lives.
» Full story
There is an urgent need to better communicate the health benefits of vaccination and the dangers of not immunizing children. A ceremony signalling the start of the fourth regional Vaccination Week in the Eastern Mediterranean Region was held in Cairo, Egypt, on 22 April 2013, under the patronage of H.E. Dr Mohamed Mostafa Hamed, Minister of Health and Population of Egypt. The ceremony took place in the National Training Institute with more than 300 participants, including representatives from the Ministry of Health and Population, WHO and UNICEF, as well as medical and nursing students and national scouts.  
This year, the slogan for regional Vaccination Week is "Stop Measles Now!" in order to increase the visibility of the measles elimination target and draw the attention of policy-makers, partners, the medical community and the public. The event was covered by the national and regional media.
» Full story
Egypt celebrates the Second United Nations Global Road Safety Week, 6–12 May

Egypt hosts Vaccination Week ceremony, 22 April 2013