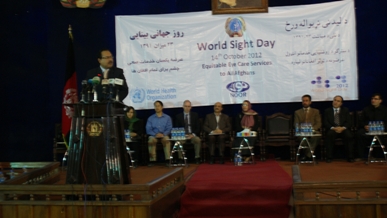 The theme of World SIght Day in Afghanistan is "Equitable eye care services for all Afghans".On 14 October 2012, the WHO country office in Afghanistan, the Ministry of Public Health and the Noor Eye Care Hospital of Kabul celebrated World Sight Day.
The National Committee for the Prevention of Blindness and the Ministry of Public Health chose "Equitable eye care services for all Afghans" as the 2012 theme, to highlight the need for equitable eye care services across the country.
In Afghanistan, approximately 400 000 people are blind and about 1.5 million are visually impaired.
However, about 80% of this blindness is avoidable. High incidence of blindness is mostly due to unavailability of proper adequate care. Additionally, injuries are also one of the common causes of blindness.
Cataract remains the main cause of blindness (60%), which can be operated on through simple procedure in outpatient clinics.
"We request all partners to join in scaling up primary eye care services and improved eye care education, prevention and awareness", said Dr Ahmed Ashfaq, WHO Officer-in-Charge.