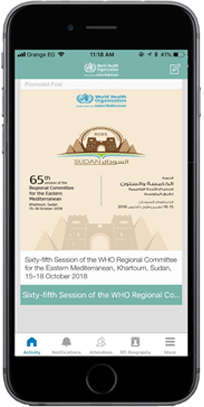 The WHO EMRC65 app is the easiest way to stay connected with the Sixty-fifth Session of the WHO Regional Committee for the Eastern Mediterranean. The app for smartphones, iPads and other tablet devices provides a single point of access to all Regional Committee-related documentation and other RC materials and content.
The app serves as a one-stop-shop for everything related to the Regional Committee session. It allows you to:
access all Regional Committee documentation in Arabic, English and French and related materials
access the programme and details on each session
receive real-time push notifications about changes to the programme
join the conversation on Twitter and share content through Facebook
browse the gallery to view photos and videos from the event
share your own experiences and photos from the session
interact with other participants
contact members of the WHO Regional Committee Secretariat.
Access the WHO EMRC65 app
You need to register to access the app at the following URL address: https://extranet.who.int/datacol/survey.asp?survey_id=3919 (User ID: RC65, Password: RC65).
Once you have registered, you will receive an individual email message within a few hours with your unique login details.
If you have already registered for the event, you will receive your log in details before the start of the event.